Sleep Apnea, Snoring, Narcolepsy,
Insomnia and Other Sleep Disorders.

THE SLEEP SITE
BRINGING SECRETS OF THE NIGHT TO THE LIGHT OF DAY...
Understanding the symptoms of sleep disorders.
THE SLEEP SITE HAS BEEN REVISED AND UPDATED.
CLICK HERE TO VISIT THE NEW SLEEP SITE!
SEIZURE DISORDERS - 3.


If there are indications that your problems with sleep or alertness might be due to an underlying seizure disorder, what should you do?

ENSURE THAT YOU ARE EVALUATED AT A SLEEP CENTER THAT IS FULLY STAFFED AND EQUIPPED FOR THE EVALUATION AND MANAGEMENT OF SEIZURES!

-Many sleep centers (and, by definition, all sleep laboratories for breathing disorders) cannot perform full EEG ("brain wave") monitoring during sleep. Their recording techniques instead are limited to identifying sleep stages rather than abnormal bursts of brain electrical activity.

-If you have symptoms that suggest that you may have a seizure disorder, it would be important to ask several key questions of any sleep facility before proceeding with care:

--Does the center have a neurologist (specialist in disorders of the brain and nervous system) on staff?

--If so, does that neurologist interpret overnight sleep recordings?

--Does the center have the necessary equipment and staff expertise for the performance of full electroencephalography throughout sleep recordings?

---
INFORMATION ON SPECIFIC SLEEP DISORDERS

INFORMATION FOR OTHERS:

---

AND FOR MORE INFORMATION: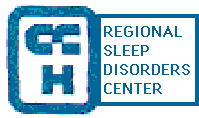 COLUMBUS COMMUNITY HEALTH
REGIONAL SLEEP DISORDERS CENTER
Accredited by the American Academy of Sleep Medicine.
Robert W. Clark, M.D., Medical Director
1430 South High Street, Columbus OH 43207
Tel: [614] 443-7800
Fax: [614] 443-6960
© Copyright 2006 Robert W. Clark M.D. Inc.