Sleep Apnea, Snoring, Narcolepsy,
Insomnia and Other Sleep Disorders.

THE SLEEP SITE
BRINGING SECRETS OF THE NIGHT TO THE LIGHT OF DAY...
Understanding the symptoms of sleep disorders.
THE SLEEP SITE HAS BEEN REVISED AND UPDATED.
CLICK HERE TO VISIT THE NEW SLEEP SITE!
SEIZURE DISORDERS.


What is a seizure disorder?

-The brain "runs on" chemical/ electrical energy. In some people, certain brain cells "discharge", activating yet other brain cells and so on, in an inappropriate way.

-This abnormal spread of electrical activity in the brain is the basis of a seizure.


Do people with seizures always have convulsions?

-No. While some people do, many individuals never have anything approaching or resembling a full-blown convulsion during their seizures. The symptoms of each seizure depend entirely upon the specific parts of the brain that are activated by the abnormal bursts of electrical activity.

-For example, a seizure involving the brain area involved with:

Sense of taste - may result in perception of a peculiar taste that is not really there: often metallic, like a piece of foil or a penny in one's mouth.

Sense of smell - may result in a peculiar odor, typically the same, usually foul or unpleasant and not noted by others.

Vision - may cause objects to appear too large, too small, distorted or otherwise abnormal.

Control of muscles - may cause jerking of the opposite side of the body or face.

Why are seizures relevant when one is dealing with sleep problems?


SEIZURES CAN CAUSE CLOUDING OF CONSCIOUSNESS AND IMPAIRED ALERTNESS RESEMBLING SLEEPINESS IN SOME INDIVIDUALS.

Some people who experience lapses, confusion and slowed thinking--and who thus assume that they are simply sleepy--actually are not. Instead, they are experiencing low grade seizure activity that is interfering with their mental functioning. It is critical to differentiate this type of problem from true sleepiness, because its treatment is totally different.

SEIZURES OFTEN OCCUR DURING DURING SLEEP--AND THE CONSEQUENT SYMPTOMS CAN MIMIC WHAT ONE ENCOUNTERS WITH OTHER SLEEP-RELATED ILLNESSES.

During sleep, the brain tends to "let its guard down": facilitating the occurrence of a number of different types of seizure manifestations. Examples range from mild twitches of one side of the face to repetitive hard body jerks, bizarre attacks of screaming and frantic behavior, and even generalized convulsions. Loss of urine, generalized muscle aching on awakening, and biting of the inside of the cheek or the tongue during sleep suggest, but don't prove, that a seizure took place.

---
INFORMATION ON SPECIFIC SLEEP DISORDERS

INFORMATION FOR OTHERS:

---

AND FOR MORE INFORMATION: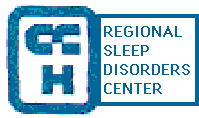 COLUMBUS COMMUNITY HEALTH
REGIONAL SLEEP DISORDERS CENTER
Accredited by the American Academy of Sleep Medicine.
Robert W. Clark, M.D., Medical Director
1430 South High Street, Columbus OH 43207
Tel: [614] 443-7800
Fax: [614] 443-6960
© Copyright 2006 Robert W. Clark M.D. Inc.