BRINGING SECRETS OF THE NIGHT TO THE LIGHT OF DAY...
Understanding the symptoms of sleep disorders.
SLEEP APNEA, SNORING AND
BREATHING PROBLEMS IN SLEEP
The tragedy of untreated sleep apnea.
SLEEP APNEA JEOPARDIZES BOTH HEALTH AND PROFESSIONAL CAREERS.
I was asked to submit a brief article on sleep-related illnesses to the Columbus Federal Voice--an excellent publication distributed to Federal employees.
A reply published in a subsequent edition described the dangers of sleep apnea, and the enormous impact it can exert on one's life, far more eloquently than what I had written.
I called Lt. Col. Baxter, the author of that reply. What he recounted in his article is only part of all that he suffered--as a tragic consequence of sleep apnea that was not diagnosed and effectively treated in a timely manner.
I do not know what I could add to what Lt. Col. Baxter wrote. He nearly died at one point from his condition and nearly lost his career.
What he writes is an eloquent testimony to the wisdom of avoiding preventable tragedies.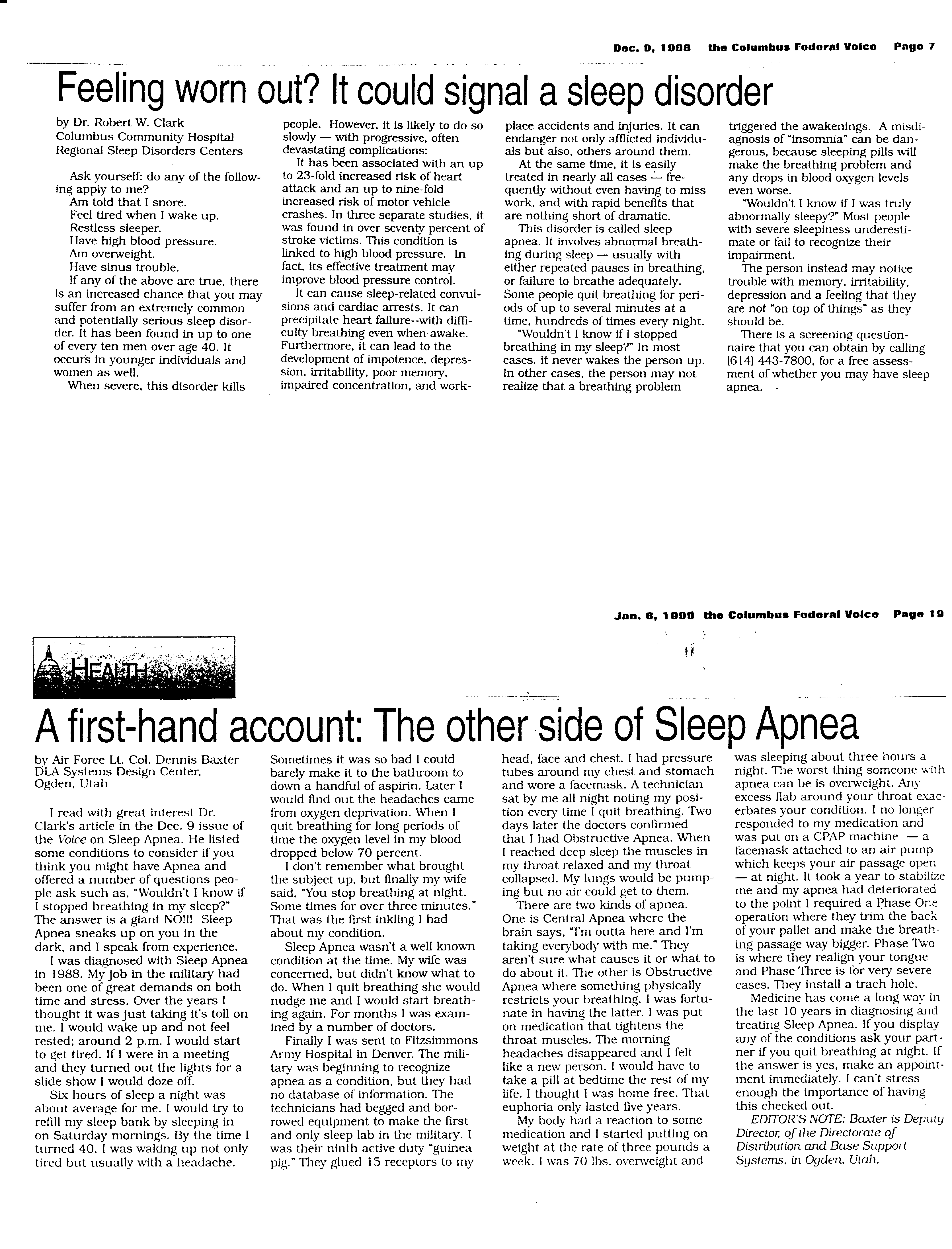 ---------------------------------------------------------
If you or a loved one have sleep apnea, the time to get help is now, and not later.

Later may be too late.
---
Yet another individual has a dramatic story to tell and has given me permission to reproduce the e-mail letter that he sent me in full. It speaks for itself.
Subject: Sleep apnea nightmare
Date: Fri, 05 Nov 1999 12:51:14 -0600
From: "Dorothy M. Brantley" <frank4@txcyber.com>
Organization: A/C By Brantley
To: flamenco@netexp.net
My name is Franklin Brantley. I'm 58 years old; recently I have been diagnosed with sleep apnea. Sleep apnea has destroyed my life. I lost my job, and 80% of my retirement, because I had to take early retirement.
The doctor I was seeing wouldn't send me to a sleep lab "HMO" doctor. All this doctor would do is "say you are depressed". She (the doctor) sent me to a physiogist: between them they doped me up with anti-depressants and sent me back towork. For seven years I worked like this and it was a nightmare. At work I was always sleepy, tired, making mistakes all the time, not gettig any help from my doctor, and afraid to talk to my bosses " be fired and no retirment"; this becausemy doctor though I was a nut case!
All of the symptons listed on this web site: I find I have about all of them. Since I have retired I have gone through three doctors one of them diagnosed me with polycythemia, because at the sleep lab study my oxygen level dropped to 79%. This last doctor I'm going to now said "I was the poster boy for sleep apnea". The reason for so many doctors is when the doctor you are going to gets upset with the HMO company and drops it, you change to another doctor.
I get up in the morning just as tired as when I went to sleep. I fall asleep driving, sitting in my chair, and at every red light I want to take a nap. I have trouble with memory; I call people other peoples' names. This present doctor told me all of this will change when I start using the CPAP machine.
-----------------------------------------------------------------
Subject: Sleep apnea
Date: Sun, 07 Nov 1999 22:06:26 -0600
From: "Dorothy M. Brantley" <frank4@txcyber.com>
Organization: A/C By Brantley
To: flamenco@netexp.net
Yes Dr. Clark, you may put my email on your sleep site. Thank you for giving me the opportunity to share my problem with others whom it may help. You may use my name if you wish. Also my email address if any one wishes to ask any questions.
-Franklin Brantley
I thank Mr. Brantley for his desire to help others. I hope he will do well now. His letters are a sad reflection on the continuing inadequate awareness of sleep apnea among both employers and physicians--and on the problems in our health care system that frustrate us all.
---
Click here to learn how sleep apnea and other serious sleep disorders
can be effectively diagnosed and treated.
COLUMBUS COMMUNITY HEALTH
REGIONAL SLEEP DISORDERS CENTER
Accredited by the American Academy of Sleep Medicine.
Robert W. Clark, M.D., Medical Director
1430 South High Street
Columbus OH 43207
Tel: [614] 443-7800
Fax: [614] 443-6960
© Copyright 2010 Robert W. Clark M.D. Inc.